You probably aren't reading this unless you've read Part 1, so I'm not going to introduce people already met or explain the abbreviations for groups and administrative entities. Believe me, interfaith organizing is a word-salad of acronyms for long, politicallycorrect, and organizationally precise labels and titles.
We returned from the Indigenous meeting to the main room, where Musa Sanguila (Muslim / the Philippines) was playing the guitar and singing a song about the loss of traditional lands. This was especially moving after the subjects we had just been discussing.
This session was for presentations by the Regional Leadership Teams about their Regions. Sally started us off with Asia and gave them 25 minutes since their Region is so large, with 208 CCs. This turned out to be a mistake since 1) Asia has six sub-Regional Coordinators, who each ran long, and 2) after such a long presentation it was impossible to keep all the following RLTs to their alloted 5 minutes. At the end of their presentation, Bishwadeb Chakraborty - sub-RC for East India, whose name is a delight to say (try it!) and is a magnificent drummer - offered to close with some drumming... without a drum. He proceeded to open his mouth before a mic and play his cheeks like two tablas, faster and better than I have ever heard anyone but him play real drums! Biswadeb is both a delight as a person and a miraculous drummer. I am amzed that his music is not on YouTube.
Europe told about dealing with secular countries uninterested in supporting interfaith organizationsand their own efforts to address rising xenophobia
Latin America & the Caribbean (LA&C) mostly reported on a conference - "Honoring the Spirit of Granfather Fire" - hosted by CISEI (Interamerican Council on Indigenous Spirituality). LA&C's Regional Coordinator is also CISEI's Director, Enoe Texier (Christian / Venezuela).
Middle East and North Africa (MENA) addressed the problems of the elephant in their rooom - Israel - which has meny of their CCs, but to and from which many other CCs in MENA can't travel.
We tried to keep our Multiregion presentation short, but we waqnted address three key points:
1) Almost all of the Global Initiatives in the URI about which we heard so much earlier, and almost all of its high-profile projects - the Interfaith Sacred Space Design Competition (www.interfaithdesign.org),
the 1000 Kalema photo competition (http://www.thinkpeaceinternational.org/#!untitled/c240r),
the interfaith ascent of Mt. Everest (http://www.everestpeaceproject.org/),
the online journal The Interfaith Observer (http://theinterfaithobserver.org/),
and more - either ARE Multiregion CCs or were generated in Multiregion CCs and grew out of the Multiregion to become Initiatives seperately funded by the URI. In a very real sense, the Multiregion both IS and is the dream of the URI.
2) The Multiregion has suffered been shortchanged and surffered setbacks like no other Region. We have had ONE face-to-face meeting of the Region in the last 12 years; most Regions have them every few years or more often. For two of the past three GC terms, one of our Trustees has been serving as GC Chair AND Regional Coordinator for LA&C, dividing her attention and time. In addition, we have had both a Trustee and a Regional Coordinator resign in the middle of the term TWICE, forcing us to go through a process of finding new leadership. One of these occasions was a few months after our one face-to-face meeting, sapping the tremendous momenmtum and enthusiasm that had been generated. We have had problems finding computer support to maintain a current website (www.urimulti.org). In fact, we don't have either a RC or a computer person right now! I think that with these tremendous liabilities, what the Multiregion has achieved for the URI is amazing, but has gone unacknowledged.
3) There are great opportunities for collaboartive work through the Multiregion, once people understand that the URI's structure allows CCs to be in more than one Region. A women's CC in Germany can stay a part of the Europe Region AND be part of a Women's MCC (Multiple Cooperation Circle - don't ask) in the Multiregion - local efforts connecting and collaborating globally. Also, the Multiregion can make the necessary cross-connections for global efforts between Youth & Women, between the Indigenous & the Environment, between Peace & UN Advocay, etc.
I'm not sure our message got through, since we had to keep to 5 minutes, but we'll be sending a letter around to all the Regional Coordiantors and Regional Trustees, making our case and presenting our opportunities.
After a break, I had a short opportunity to report on the Indigenous meeting, which was well-received. I sense more of a commitmenet to this issue now than ever before in the URI. Maybe the time is right.
Bill Swing explained ho the President's Council works. The President's Council is a group of high-level donors who work together to secure funding for an endowment to support the work of the URI. Tne vast majority ofn the funds that power the central office come through this group. Then there is the URI Foundation, which invests and manages the funds raised. A few individuals each from the President's Council, the URI Foundation, and the Global Council form the Joint Steering Committee, which tries to keep all of this coordinated. Several Trustees expressed interest in being guided in forming President's Councils in their Regions. Great! This is then future of URI funding.
Bill shared the prayer (which he wrote) with which they open every meeting of the President's Council. With only very slight tweaks, it could work for us:
We make our prayer to the One who is worthy of praise
at the beginning of time and the end of time,
to the One whose presence today is Glory in our midst;
In the disease of religious violence
inspire us to anticipate the cure of peace
among believers of all traditions;
In the face of spiritual arrogance
that falsely elevates on believer over others
and sows the seeds of mistaken superiority
help us to stand in humility before Your throne; and
In the face of the accepted creed that
religious rivalries are inevitable and impenetrable,
make us slaves to the extravagant hope
that wholeness is possible.
At this critical time of religious brokenness
and rising threat, challenge us to be stewards
of that sacred equilibrium which is at the heart
of harmonies and families and communities.
We beg Your blessing that our work
may be effective in the world
and honorable in Your sight.
Wow! Even after decades of interfaith work, I am still surprised when I can be so moved by Christian prayer.
At the end of this session, facilitator Diana Whiteny left for another conference. The rest of us prepared for a dinner with members of the Prsident's Council and the Staff. While the GC was full of new faces when I arrived, the assembled Staff is a bunch of old friends, some of whom I've known for 15 years and some even attended my wedding reception.
I walked to the dining room with Osama "Sam" Wazan, talkning about his book and Reza Aslan's theory that Islam is just going through its own "Enlightenment" and the rest of us are just along for the very bumpy ride. I ended up at a table with Audri, volunteer Ardi Turner, Rebecca, former Trustee Karima Stauch (Mulsim / Germany), Ari avn Buuren (Protestant / the Netherlands), Sally, and Debra. Rebecca gave an opening in which she focused on the Roerich Flag and its use to protect sacred sites.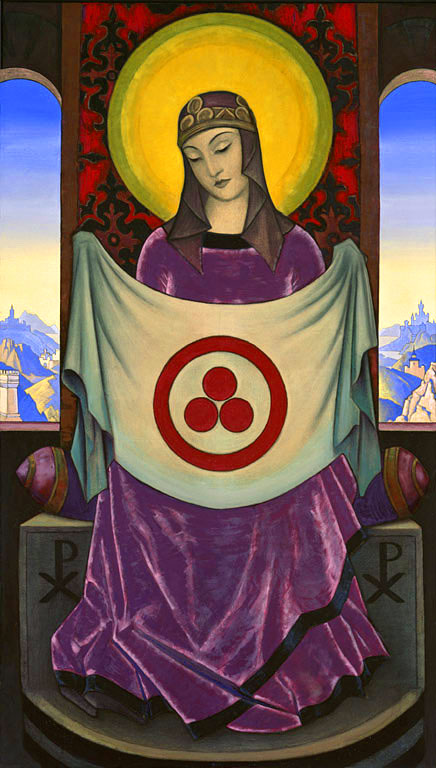 Google "Roerich flag" to learn about the flag, its use in international treaties, and Nicholas Roerich's amazingly inspired art.
We got down to a dinner that was large - even by American standards - and chatting. Wicca kept coming up. Ardi told about how we first met at the 1998 URI Global Summit and how Deborah and I had been so open and friendly to a volunteer that was supposed to keep to the shadows. She also told the "skyclad" story from the 2001 North America Regional Assembly. Ari told about working with Morganna of the Pagan Federation in URI Europe; in fact she serves on their Steering Committee! Sally told about her initial fear of having Witches in the URI, but how quickly that changed when she saw us interacting with other prominent representatives of "mainstream" religions and developing fast friendships. I told about Dayonis - the senior living Wiccan Priestess on Earth - attending the 2001 Assembly and being greeted and honored by both Bishop Swing and Charles Gibbs... a far cry from being hounded out of the UK by bigotry in 1960. I also told them about conservative Christian write Brooks Alexander attending PantheaCon first as my guest and later as a presenter, and how our community both was and wasn't what he expected. (BTW, Brook's book about us is now online at http://www.apologeticsindex.org/2610-witchcraft-goes-mainstream-by-brooks-alexander) It was an evening of sharing stories - sometimes outright funny, sometimes amusingly embarassing - with friends with whom I could be open about my spiritual path, my practice, and the quirks of our community. This is what true interfaith is about.
I am just finishing this in time for the busride into San Francisco for the annual Circles of Light dinner:
You can read more here (http://www.uri.org/get_involved/events), but basically it's an opportunity for the Trustees to impress likely big donors witn the importance and good work of the URI. I am happy to do my part, since I do truly believe that the URI is our best hope for "peace, justice and healing for the Earth and all living beings".
On that note... Next time I'll let you know how the event went.
Blessed Be,
Don Frew
CoG National Interfaith Representative